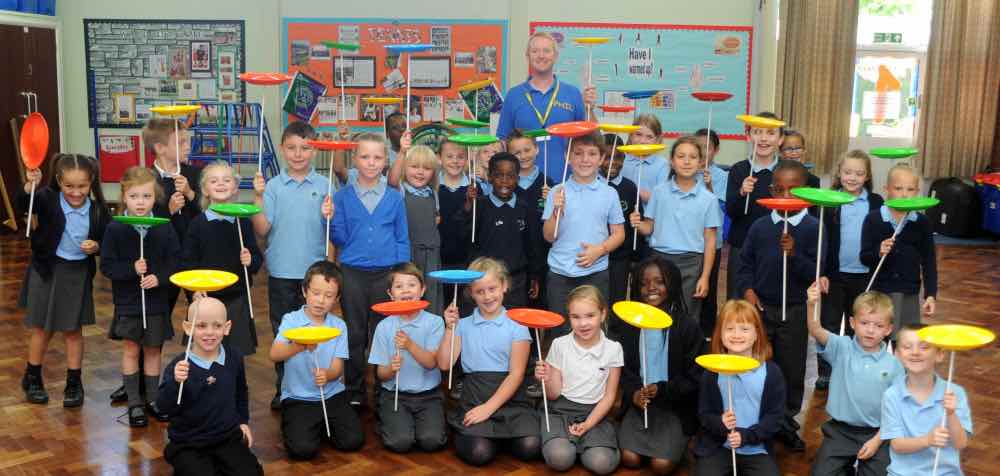 Hi, I'm Phil Blackmore, the Circus Days workshop leader.
I am one of the UK's top jugglers, and a full-time professional circus skills performer and instructor.
I've dedicated my life to learning, performing and teaching circus skills, and would like the opportunity to share some of that expertise with your pupils.
I can spend the whole day at your school running exciting interactive workshops where all the children get to join in and feel a sense of achievement.
My circus days foster confidence, concentration, fitness and co-ordination…and of course are great fun!!!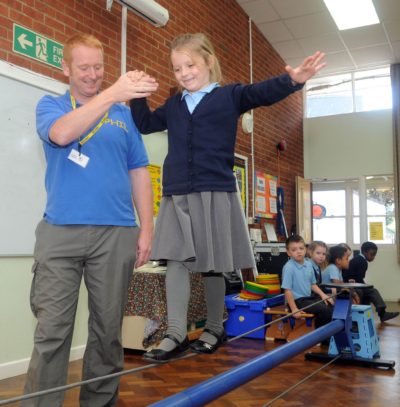 "The sessions were sensational! Every child from 4 to 54(!) had a wonderful time. The most rewarding thing was seeing children's confidence blossom, desperate to show Phil and the teachers what they had learned. I don't think I have ever heard the children laugh so heartily as they did during the assembly. Phil is not only an incredibly talented and skillful performer but a great communicator, making all children believe that they could 'do it'! It was an absolute joy and we are already thinking about dates for next year.
This is what school should be about – children being given the opportunity to really challenge themselves in fun and exciting ways coming away with a greater sense of self-confidence and belief. Wonderful!"
Gill Kelsall
Deputy Head, Sonning CE Primary School, Reading
About the circus day
My circus days are suitable for all ages and abilities from Nursery to year 6 (including SEN, Special schools and pupil referral units).
The day begins with a 30 minute assembly in which I demonstrate the skills the children are going to learn and I also perform some amazing juggling to inspire them. It's full of fun and laughter, and the children always come away from the assembly excited, engaged and ready to try all the skills for themselves.
tight wire walking
scarf juggling
peacock feather balancing
plate spinning
Pedal-go's
dancing ribbons
diabolo
stilts.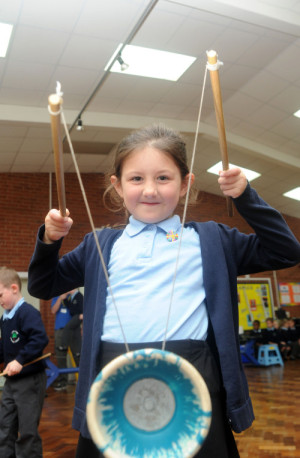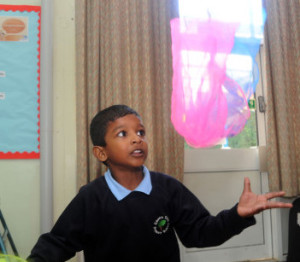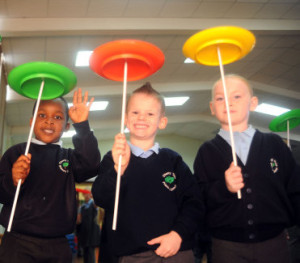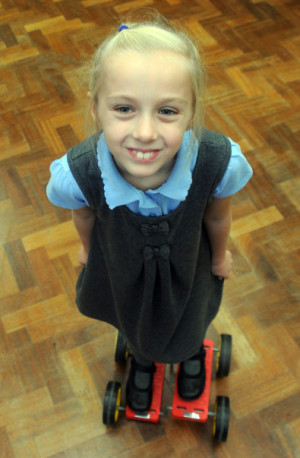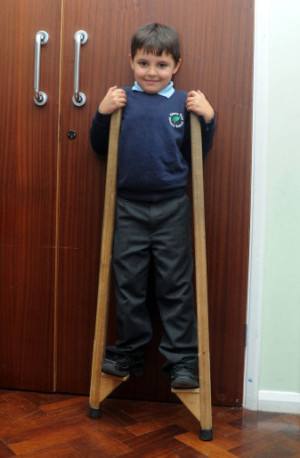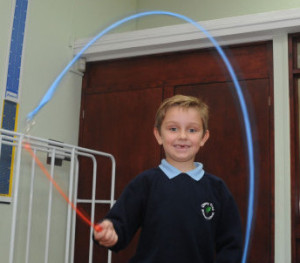 After the assembly I take classes in the school hall for the rest of the day (don't worry I can move everything completely out of the way for lunchtime).

The lessons are tailored to the age and ability of the children, and the time available.
For years two and above I usually teach scarf juggling, feather balancing and plate spinning to the whole class as a structured lesson with everyone learning the same activity together. The classes then end with free time for the pupils to try the different skills on their own while I help the children on the tightwire.
Nursery, reception and year one classes have completely structured lessons so we can ensure they get the most out of the time, and every one of them gets to go across the tightwire!
If there is time we can also finish the day with an assembly where the children can show the rest of the school and invited parents the different skills they have learned.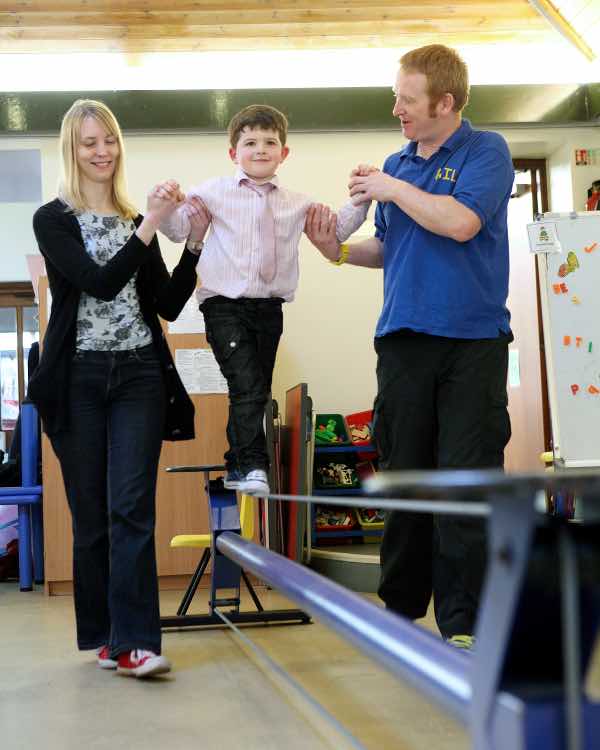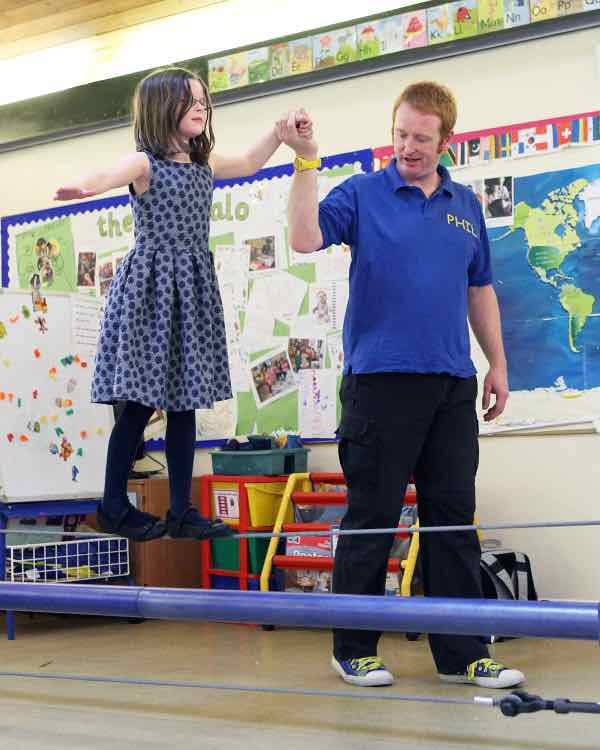 Lesson times are completely flexible depending on your timetable and requirements.
60-90 minute workshops are highly recommended and very popular.
However I also often do a whole school in one day with a 30 minute assembly, then 30 minute sessions throughout the day.
Alternatively I can spend a full or half day with one class.
If you have too many pupils for one day or would prefer longer sessions I can do two or more days at the same school.
At least one other teacher will need to be present at all times.
I can usually do up to 6-7 classes in one day, about 200-245 children maximum.
Class sizes are generally limited to a maximum of 35 pupils.


I can supply risk assessments if required and have full public liability insurance.

South-east / London area 2022 Autumn tour:
The Summer term is fully booked!!!
I'm taking bookings for the Autumn term tour November 28th-December 9th.
There is strictly limited availability so please do get in touch very soon.
Special tour prices!
Full day: £350
Half day: £300
Extra consecutive day at same school: £300
If you would like to book me for a circus day at your school please get in touch soon. I can get booked up far in advance and wouldn't want you to miss out.
You can email me, or if you prefer please feel free to text or call to discuss how I can help you.
Info@circusdays.co.uk
07771 638265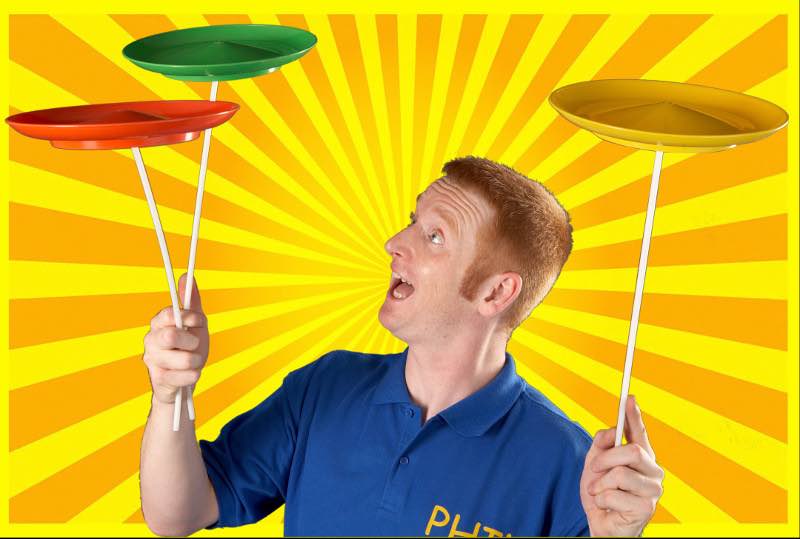 "We have enjoyed two wonderful circus days with Phil. Without exception, all the children (and staff!) from Reception to Year 6 really enjoyed the entertaining assembly that introduced the skills and the class workshops. Phil had a brilliant rapport with the children and managed to ensure they all achieved success. He was very adaptable to our needs and the days flowed without any problems despite the large number of classes involved. I wholeheartedly recommend him for all age groups and we will certainly be inviting him back to our school."
Jan Miles
Assistant Head, Our Lady Queen of Heaven School, Crawley,
"The children had a fantastic time.
Many parents have caught me after school to tell me that their children have not stopped talking about the skills you demonstrated and how they were all able to take part and have a go themselves.
We all commented on the exceptional behaviour of the children which was a result of their interest, enthusiasm and the excellent rapport that you had with them.
It was certainly one of the best workshops we have experienced in our school and one that will now enable the children to take their learning forward."
Kathryn and all the staff and children of Northlands Wood School.
"Phil spent two days working with groups at the Francis Barber PRU in Wandsworth. His excellent manner meant that these street- wise and normally dismissive adolescents had "fun".
There's not much of that in their lives!
Phil was able to engage all the pupils and staff in a mixture of circus skills activities. Pupils had opportunities to collaborate and perform in socially acceptable ways. Everyone had a good time and the days made a real contribution to the raising of self-esteem."
Pat Ashworth
Deputy Head Francis Barber PRU
"Phil spent two exciting and fun packed days with us. He was very careful to set out all the safety aspects of the workshop before we started and managed the children excellently throughout the session. The children had the opportunity to see and then try many circus skills and they are still practicing them now in the playground.
The work that the children did, from nursery upwards, fitted beautifully into so many aspects of the curriculum and from start to finish was really motivating.
More than anything else, the children learnt a great deal whilst having a wonderful time. I can recommend Phil's circus skills for a thrilling day of real fun!"
Daniel Willetts
Head Teacher
Norwood Green Nursery and Infant School
"Phil brought a great deal of fun, excitement and enrichment to our school for three days with his superb workshop sessions and breathtaking assembly. The children enjoyed it greatly and many found talents they never knew they had!"
Neil Meehan
Headteacher, Trafalgar Junior School
"Phil came to our school to work with all the Reception and KS1 children. All the kids thoroughly enjoyed the sessions and were so excited and well focused. I would recommend Phil's circus days happily- even the teachers enjoyed them."
Neophitos Ttofias
Primary Strategy Director, Holy Trinity Primary School, Lambeth

"Many thanks for the wonderful day held at St. Paul's – it was great to see the delight on the children's faces.. The children really enjoyed the assembly and the workshops.
The Foundation Stage children immediately returned to their base and made their own circus!
Ricky – class 6 says- the performance was excellent and Phil's skills were fantastic. I really enjoyed the Diablo because I really need skill to do it!
Jonathan- year 2 says- I think it was quite fascinating and good. I really liked the Diablo because it took an awful lot of skill to master it!
I would recommend your workshop to all colleagues and will no doubt welcome you back to our school in the future."
Sandra James
Headteacher. St Paul's CE Primary School, Brentford

"Everyone says a big thank you for coming to see us. I asked the teachers for their comments and here are some of them
"Absolutely brilliant"
"Excellent. The interaction with the kids was marvellous"
"A very talented man, enjoyed by children and adults"
Thank you once again"
Alison
Holmbush School , West Sussex